It took some prodding, but 22-year-old Joe Ukrop—a meat manager at the local A & P Supermarket—convinced his Slovak father to mortgage the family farm to open Ukrop's Market at 3111 Hull Street in South Richmond.  The year was 1937, and the 16′ x 32′ store was the size of a two-car garage.
For 26 years Joe and his wife Jacquelin Ukrop operated this one store which was enlarged several times and became the highest volume independent food store in Richmond by the late 1950's. Over time their business earned a wonderful reputation for superior customer service and community involvement by living The Golden Rule, "Treating others as they personally would like to be treated." In 1960, their oldest son James joined the business full-time (after graduating from the College of William & Mary), and he convinced his father to open a second store at 7803 Midlothian Turnpike. James led Ukrop's expansion to five stores in south Richmond/Chesterfield County by the end of the 1960's. Youngest son Bobby joined the company fulltime in 1969 (after graduating from the University of Richmond). In October 1972, he became the store manager of the first Ukrop's north of the James River (7129 Staples Mill Road).
The 1970's ended with Ukrop's operating ten stores throughout the Richmond region. Controlled growth continued under the leadership of James, Bobby, and thousands of dedicated associates ranging in ages from 16-90. Ukrop's reputation for superior customer service, a passion for wholesome foods, and a focus on community health and well-being grew as well. At one point, Ukrop's operated 30 retail locations in Central Virginia. Seeking to fulfill the company's purpose and live its values, store associates strived to ensure every visit was a pleasurable experience.
Joe and Jacquelin's sons, James and later Bobby, assumed leadership roles in the company and eventually grew the chain of Ukrop's Super Markets to 29 locations throughout Central Virginia. Over time, the Ukrop's name became known for the store's high standard for superior customer service, a passion for wholesome foods, and a focus on community health and well-being. Ukrop's Super Markets became a special place to shop. Store associates ensured that every visit was a pleasurable experience.
From our family to yours, "It's always a pleasure to serve you."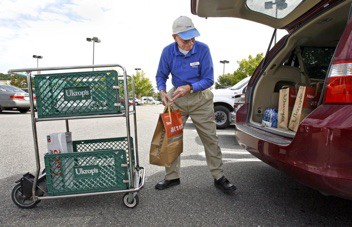 The company's fresh food journey began in 1976 when Ukrop's purchased Dot's Pastry Shop, a premier Richmond bakery. The move provided customers across the region wider access to high-quality bakery products that are still being produced today: decorated cakes, pies, and other treats, such as the iconic Rainbow Cookie. White House Rolls made their debut in 1986. And in 1989, a "Delicious Decade," began with the company opening a central kitchen where chilled prepared foods were prepared for all of its retail stores. These chilled prepared foods were delivered to stores six days per week under the mantra "make today, ship tonight, and sell tomorrow." Many of its original recipes are still popular today.
In 2010, Ukrop's retail locations were sold. However, Bobby Ukrop and his two sons-in-law Chris Kantner and Scott Aronson retained the manufacturing side of the business, offering its ready-to-heat meals, sides, salads, and delicious baked goods to top grocery store retailers across the region and beyond. "Make today, ship tonight, sell tomorrow" continued to be the company's mantra.
In December 2020, Ukrop's Market Hall was opened to offer the community a new retail space for gathering, nourishing and sharing. Ukrop's Market Hall offers the "best-of" Ukrop's foods and legendary customer service in a friendly, neighborhood atmosphere. We welcome our loyal fans and new friends to experience the next chapter of the Ukrop's story.
It's always a pleasure to serve you.