It took some prodding, but 22-year-old Joe Ukrop—a meat manager at the A & P Supermarket—convinced his father to mortgage the family farm to open Ukrop's Super Market on Hull Street in south Richmond. The year was 1937, and the store was the size of a two-car garage.
With the help of his sons James and Bobby, Joe and his wife, Jacquelin, eventually grew the chain of Ukrop's Super Markets to 29 locations throughout Central Virginia. Over time, the Ukrop's name became known for the store's high standard for superior customer service, a passion for wholesome foods, and a focus on community health and well-being). Ukrop's Super Markets became a special place to shop. Store associates ensured that every visit was a pleasurable experience.
From our family to yours, "it's always a pleasure to serve you."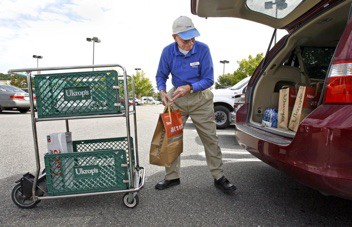 The company's fresh food journey began in 1976 when Ukrop's purchased Dot's Pastry Shop, a premier Richmond bakery.  The move provided customers across the region wider access to high-quality bakery products that are still being produced today:  decorated cakes, pies, and other treats, such as the iconic Rainbow Cookie.  White House Rolls made their debut in 1984.  And in 1989, a "Delicious Decade," began with the company opening a central kitchen where chilled prepared foods were prepared for all of its retail stores.   Many of its original recipes are still popular today. 
In 2010, Ukrop's Super Markets retail locations were sold. Bobby Ukrop and his two son-in-laws Chris Kantner and Scott Aronson, however, retained the manufacturing side of the business, offering its ready-to-heat meals, sides, salads, and delicious baked goods to top grocery store retailers across the region and beyond. "Make today, ship tonight, sell tomorrow" is the company's mantra.
Continuing to innovate, Ukrop's Food Truck was launched in 2019. A new retail experience, Ukrop's Market Hall, opened in December 2020 and will provide an opportunity for the company to serve and nourish families and communities for many years to come.
Watch our Chairman and C.E.O., Robert S. "Bobby" Ukrop, discuss how his family built the Ukrop's Super Markets' experience and hear how the company continues to honor the tradition of serving the community: